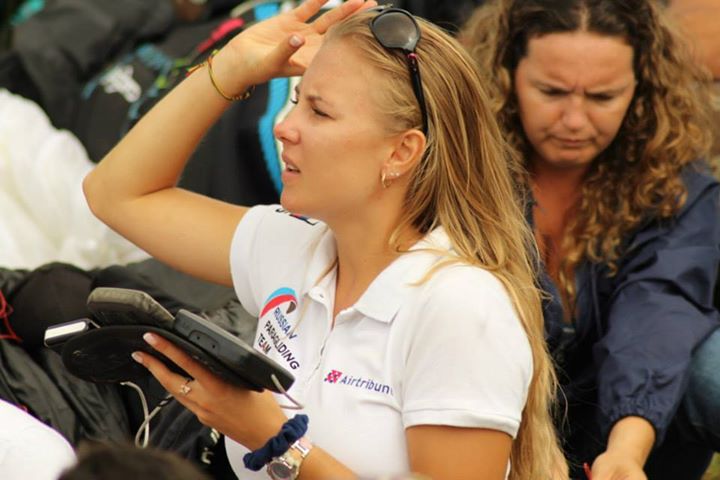 Hot Shot Daria Krasnova – Have glider, will travel
Daria can more often than not be found on a podium in one of the many competitions throughout the world. Her latest result was third overall at the Ali Dagi XC Open competition, where her natural talent for cross country flying and competition was enhanced by her shiny new complice, UP's Trango XC3. Travelling in search of the next best thermal, she shares her time between Europe and the southern hemisphere, where she organises sky tours for visitors to Colombia, South America.
Can you tell us your full name and how old you are?
Daria Krasnova, 27 years old
Which country were you born in and where do you live now?
I am from Russian Federation, province Altay, Barnaul city (South West of Siberia). Last 5 years I am living all around the world. My home is my glider and small bag of clothes. Winter time I live mostly in South America, summer – mostly in European part.
What do you do for a living?
I am working for UP Paragliders, and I organise paragliding tours mostly in South America. Now exploring new countries for new tours.
Also I fly commercial tandems.
If you could have a different job, what would it be?
I used to be working in Real Estates at my home city. In general it was very successful and I liked to do that. I'd probably like to do that again.
Who introduced you to flying and where did you learn?
My brother started to fly in 1999. I saw some videos of him flying and asked him to tell me what paragliding what like for real. From 1995 to 2005 in Siberia were paragliding children's clubs supported by Russian government and France paragliding Association. Everything was for free without any fees.
How many years have you been flying?
More then 15 years since February 2000.
Cross country flights from 2007. Before I used to be doing Accuracy flights.
What was your first flying machine (for example: glider, plane, delta, child's toy…)?
It was "square" glider from ITV paragliders. It was looking more like parachute with wide lines. Totally different from what we have now days…

What was your most memorable flying moment?
First flight, which made me crazy of paragliding!
Where is your favourite place to fly?
They are so many! One of those in Colombia: Roldanillo and Sopetran. Now I am exploring Woodrat in USA and I definitely like it!
What kind of flying do you prefer best (competition, XC, soaring, acro…)?
I prefer mainly competition and XC flying.
When are you most in your element/in the "zone"?
When its flyable.
What flight instruments and equipment (wing, harness, canopy…) do you use?
Glider from UP Paragliding Trango XC3, harness from Kortel Designr Kanibal Race, Vario/GPS FlyMaster and usual driving GPS with LK8000, helmet PlusMAX.
Who has been your greatest influence?
My instructor and best friend Vladimir Zadorozhniy "IIich". He is like step father for me. And surely my mom!

What was your most hair-raising experience?
I throw my reserve on low altitude just to check how it works. I was around 15 years old without adult's control. I had hard landing. I was lucky and didn't injured myself.
Where in the world would you like to visit, that you haven't already been?
Italy, Switzerland, Australia, South Africa.
What do you do for fun when you're not flying?
I am very addictive to surfing now. Also I like to snowbord, hiking and other outdoor activites.
What is your most favourite article of clothing in your wardrobe?
My flying jacket form UP Paragliders. I have been using it for 3 years already. Flying, snowboarding, It good when it rains, windy or both. It keeps me warm and dry. It's very light and very useful in my life style.
What item would you not leave home without?
Music. Earphones or speakers always with me.
Where do you see yourself in 10yrs' time?
Somewhere close to warm ocean and nice flying spot. I am searching…

If you had "A Day in the Life Of…", who would you be?
Cat. Very primitive, probably, but I love cats.
I would like to be eagle also, I want to know how they feel in the air. I want to see with eyes what they have.
And also dolphin. They are nice. And it is interesting for me to explore life under water.
If you have a personal philosophy/moto/mantra, can you share it with us?
I am fatalistic person and belive in destiny.
Also I belive in Energy. The world – is the energy flows and can be found everywhere: in the emotions, feelings, thoughts and the environment.
Give your positive energy to the world and you will get it back.
And I believe in myself.
Want to put someone forward for a Rock the Outdoor Hot Shot? Do you know someone who's done some amazing flying recently ? Send the details to: emma.casanova@rocktheoutdoor.com
Got any news, media, stories or articles you'd like to share with the community? Simply send them to emma.casanova@ocktheoutdoor.com   We'll make sure they get the place they deserve 😉
Fly safe and smile high!