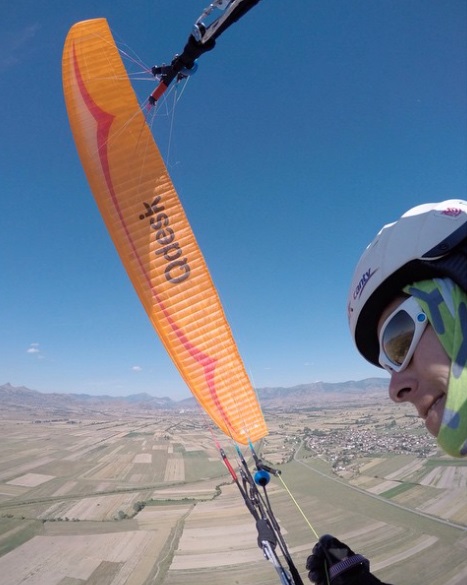 Hot Shot Joanna di Grigoli – dreams of toy planes and chocolate
Can you tell us your full name and how old you are?
I'm 36 years old and my name is Joanna Margarita Di Grigoli Genty, names are long in Latin America!
Which country were you born in and where do you live now?
I was born, raised and live in Venezuela, but home is also wherever I go flying and meet my friends from all over the world.
What do you do for a living?
I'm a freelance translator and paragliding pilot
If you could have a different job, what would it be?
Veterinarian or chocolate taster
Who introduced you to flying and where did you learn?
I'd needed to fly since I was a baby, I just dreamed about it and was obsessed. My drawings were about birds and flying stuff, it was like an urge. My parents showed me a hang glider when I was 3 and then I couldn't stop thinking about free flight.  I learned in Venezuela, in a German town called El Jarillo.

How many years have you been flying?
I've been flying for 15 years now.
What was your first flying machine (for example: glider, plane, delta, child's toy…)?
I remember having a small plastic hydroplane I loved playing with in the bathtub, but my favourite flying toy was the winged My Little Pony.
What was your most memorable flying moment?
Flying from Gemona in Italy to Austria and crossing beautiful snow and clacier-covered mountains and hopping over very narrow valleys. It was a great flight with friends and conditions were just perfect. The immensity of the mountains reminded me how small we are.
Where is your favourite place to fly?
In Venezuela, I love flying in Loma Lisa. It's the most famous xc site at home that combines mountains and flatlands depending on the route you take and it's always fun to go because xc in Venezuela is done in groups followed by a retrieve vehicle, so the chatting on the radio is always interesting and fun.
What kind of flying do you prefer best (competition, XC, soaring, acro…)?
I think there's a kind of flying for every mood. XC is my favourite because I get to make my own decisions and it's me and nature, it's the way I meditate.  Competitions are fun because you get to meet and hang out with people from all over the world in the ground and in the air. It's also a great way to learn new things and push your limits because you go to places where you're sometimes scared or shy to go.  Sometimes, I take my freestyle glider and go do some wagga where I learned how to fly. It's a grassy mountain that's great for flying close to the ground and play and also for thermalling up and do some acro.  When I'm in the mood for working out and being in direct contact with the mountains, I take my Yeti and go hike and fly. I'm always grateful to fly down instead of walking.

When are you most in your element/in the "zone"?
Sometimes, when I'm flying cross country I can analyse the conditions and figure out what's really happening in terms of weather and aerology. When I know there's going to a thermal in a specific place and it happens, it's magical! It's when everything comes together and you hop from cloud to cloud as if you were synchronized with nature. Do you know those movies when the clouds open and there's sunlight coming through and celestial music playing in the background? Well, that's how it feels.
What flight instruments and equipment (wing, harness, canopy…) do you use?
For cross country and competitions, I fly a Gin GTO2, Genie Race3, Beamer3 and Yeti parachutes, and a Plusmax helmet. My instruments are a Naviter Oudie 3, a Solario, and my old faithful Flytec 6020.
For soaring fun and "light" acro, I have a Gradient Freestyle3 and a Gin Gingo harness.
For hike and fly, I use a Gin Yeti and a FlyNeo String harness.
 Who has been your greatest influence?
Petra Slivova, for sure. I saw her win a task at the 2005 World Championships in Brazil and lead the Australian world's for 3 tasks. It was amazing! After that, everything changed and women started to be in overall podiums and be more respected in the sport.
What was your most hair-raising experience?
Once, I witnessed a mid-air collision during the 2008 PWC in Brazil. I was scary to watch, but fortunately, both pilots threw their reserves and landed safe.  Last year, in Guayaquil, Ecuador, I flew over mangroves and canals, it was incredible that there were thermals and I flew with two other pilots over this place with nowhere to land. It was amazing to fly and see your reflection on the water. It was a new experience for me and I enjoyed it.
Where in the world would you like to visit, that you haven't already been?
I've always wanted to go to Nepal, for the whole flying and cultural experience and stunning landscapes.
What do you do for fun when you're not flying?
I play the mandolin on rainy days. I also take the time to visit my non-flying friends.
What is your most favourite article of clothing in your wardrobe?
My jeans. I found a pair of jeans that fit perfectly and I've had them since 2008!
What item would you not leave home without?
My phone! I must admit I'm addicted to technology.
Where do you see yourself in 10yrs' time?
I see myself flying cross country, competing occasionally, doing lots of hike and fly, and hopefully with lots of stories to tell.
If you had "A Day in the Life Of…", who would you be?
I wouldn't trade who I am for anything. I'm happy and satisfied with what I've done and with what I've accomplished so far. I don't have much but I've lived well, travelled a lot, and met wonderful people, so I can't complain.
However, sometimes I wish I were a dog for a day… looks like fun!
If you have a personal philosophy/moto/mantra, can you share it with us?
Dedicate your life to accomplish your goals, only so will you transcend in this world for something that was worth it.