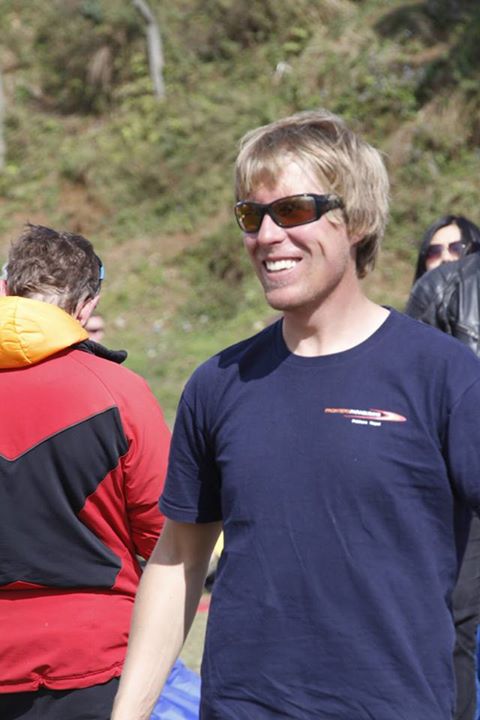 Hot Shot Michal Gierlach – never stops learning
Use time wisely, says Poland's Michal Gierlach. Trained as an engineer and also a tandem pilot and public speaker, Michal divides his time between home in Poland and Pokhora, Nepal, when not travelling. He recently earned himself the top spot at the pre-PWC in Nepal this year but despite his 12 year's of flying experience, never stops learning.
Can you tell us your full name and how old you are?
My name is Michal Gierlach, but many people call me 'Spike'. Don't ask me where that came from 🙂   I'm 29 years old.
Which country were you born in and where do you live now?
I was born in southern Poland in the Beskidy mountains and I'm still spending lot of time there. For the last 2 years I've been travelling a lot so it's difficult to say where exactly I live right now.
What do you do for a living?
My profession is as a Civil Engineering. That's what I was doing for 3 years after university. As it is not the best job for paragliding and competing, 2 years ago I moved to Pokhara, Nepal and started to work as tandem pilot during the winters. I'm also doing some guiding and cross country seminars for people who are looking to improve their flying skills.
If you could have a different job, what would it be?
No idea. It's not that bad right now 🙂

Who introduced you to flying and where did you learn?
It all started from my father. He was dreaming about flying for many years, but there was no money or time. Finally he bought equipment, did a course and when I saw him flying I knew that I had to try it too. That's how the addiction started. After doing a course in one of the local schools, the learning started from older and more experienced pilots.
How many years have you been flying?
I've been already flying for 12 years.
What was your first flying machine (for example: glider, plane, delta, child's toy…)?
I didn't have big dreams about flying in my childhood, so my first flying machine was Swing Astral 1 which I got for my 18th birthday.
What was your most memorable flying moment?
So many good moments… Every time I'm in goal is such a good time, with many happy faces around.

Where is your favourite place to fly?
We were talking about our favourite places with my friends during one of the comps. In 90% answer was pilot's local site. In my case it's similiar. I love flying over hills called Beskid Wyspowy. Besides that I like St Andre les Alpes area, Nepal and some flatland flying in Sopot, Bulgaria or Krusevo, Macedonia.
What kind of flying do you prefer best (competition, XC, soaring, acro…)?
I prefer mainly competition and XC flying.
When are you most in your element/in the "zone"?
After the start gate opens, when sky is full of Cumulus clouds and we can fly fast.
What flight instruments and equipment (wing, harness, canopy…) do you use?
I'm using Enzo 2 with Gin Genie Race 2. The wing is the best I've ever flown.
Who has been your greatest influence?
I'm trying to learn from everybody, it doesn't matter whether they are a beginner or very experienced pilot.

What was your most hair-raising experience?
Throwing reserve 2 times within 2 weeks while falling from the sky in all sorts of different configurations , this was pretty scary. It happened in 2010 but fortunately it ended up only with shaky legs.
Where in the world would you like to visit, that you haven't already been?
Brazil for long distance flights is for sure on top of my list. Besides that also USA (Chelan, Sun Valley) and any other place I haven't been to.
What do you do for fun when you're not flying?
I started ski-touring few years ago and now it's the first thing I do after I'm back from Nepal. Bicycle, parties with my friends and checking weather forecasts 😉
What is your most favourite article of clothing in your wardrobe?
Depends on temperature I change jeans to shorts plus T-shirt
What item would you not leave home without?
My wing. To be honest I'm not that much attached to things.
Where do you see yourself in 10yrs' time?
Right now is way to far to predict what will happen in 10 years. Hopefully all my friends will be around me and I will be doing something that makes me happy
Links: Paragliding in Nepal with Frontiers Paragliding