Paracutair, the first emergency line cutter specific for paragliding
14,90€
The primary objective of this ultra compact paraglider line cutter was to design a very accessible tool to be able to free yourself as quickly as possible from impeding lines or straps when you have landed in trees or sea.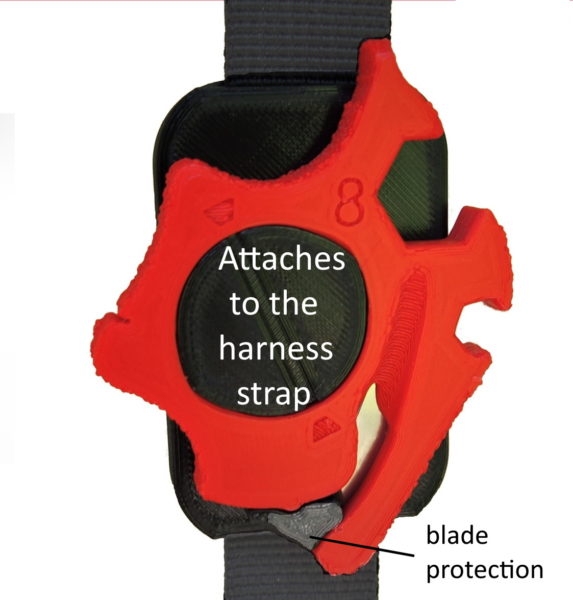 Features
Unscrews in half a turn, anti-slip grip on the edge, integrated belay cord, high qulity U.K. made scalpel blade with protection, lock with friction adjustment, 2 shackle wrenches, the mount attaches to all straps (up to 25mm).
Very easily installed on a strap (without velcro or other system) and above all for immediate access. We recommend attaching it to the shoulder strap of the harness at heart level (highly visible and within easy reach). To release it from it's base, simply unscrew it half a turn. Touse it, hold it with the strongest fingers of the hand (thumb, index and middle finger).
The mount
On the mount, there is a blade protector and a locking lug to avoid any unfortunate rotation (with friction adjsutement). A coiled belay cord prevents it from being lost.
A little bonus
Being a specifically paragliding tool, we have extended the functions of this paragliding line cutter by including 2 wrenches to loosen shackles which may be too tight (6, 7 or 8 mm shackle + riser shackle).
About the blade
To achieve maximum cutting power, we have chosen a high qulity scalpel blade (made in UK). Due to the rounded of the blade, the cutting edge is progressive and very efficient on the lines, and on cotton or nylon straps.
Quantity discount for clubs (over 10 units) – contact: info@rocktheoutdoor.com
https://youtu.be/aTj0vMSpY2E
> More photos at the bottom of the page
The "PARACUTAIR" paraglider line cutter is available in 3 wrench options to choose from (for 6, 7 or 8 mm quick link)
> A word about your paraglider shackles. They should never be over tightened (you should always be able to undo them by hand). This tool is designed to UNDO recalcitrant shackles and not to tighten them.
Description

Additional information
| | |
| --- | --- |
| Weight | N/A |
| size of the screw lock link | 6 mm, 7 mm, 8mm |