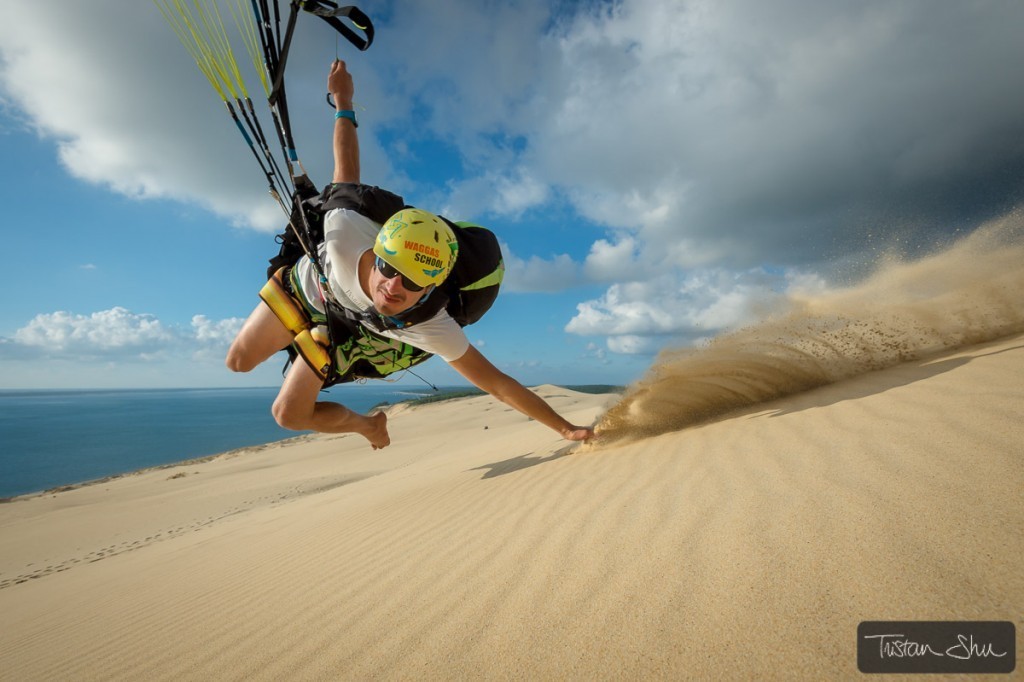 Waggas School teaches you high-wind canopy control at Dune du Pyla
Fly the dunes with WAGGAS SCHOOL
Specialists in ground handling instruction, Waggas School have been teaching techniques at close proximity flying at the Dunes de Pyla, France for over 10 years. BOth Charlie Piccolo and Harold Pluvieux are passionate about what they do and have a raft of experience behind them.
Charlie Piccolo
4 times Wagga Festival winner (international freestyle competition)
6 years paragliding sports study (France Young Hopefuls)
1999 Junior Cross-Country French Champion
Paragliding Instructor with 10 years' experience
Team Manager Sup'Air
Harold Pluvieux
Specialist in Close Proximity Acrobatics (Wagga), he also excels in traditional acrobatics.
Surfer, paragliding pilot and skier, this guy is passionate about gliding sports.

Learn and have fun at the same time
Waggas School provide group or one to one training sessions aimed at high-wind canopy control for any level of pilot.  The personalised sessions are adapted so that each student can get the maximum out of the course.  Firstly, the instructor and students will go through a series of basic drill-skills to identify the techniques which have ben mastered and those which need improvement.
The training sessions take place in two parts:
Outdoors on the terrain – where the instructor can identify your glider management level and put into place the different phases needed to improve or master the new technique or to correct bad habits.
Indoors in the classroom – using a mix of video and theory, debriefing videos add value to the instructors explanations and complement the outdoor learning arena where advice can be outlined in more detail.

Video playback improves visual learning in the classroom
Back to basics
During a preliminary initiation course, pilots can learn to master as many techniques as they are able to grasp:
– Numerous reverse-launch techniques
– Improving wing management during reverse-launch
– High-wind canopy control
– Controlling canopy course line and body position
– Initiation of launch techniques outside a defined launch window
– Improving timing within a launch window
– Control all aspects of asymmetric wings
– Improving body position and angle in dynamic launch windows

The 4 W's
Where: All the courses take place in the protected area of the Dunes du Pyla, Europe's largest bank of sand dunes on the West Coast of France near Bordeaux.
When: The best time of the year is from March to June.
Who: Courses are for all skill levels from the beginner to the advanced pilot. The idea is to gain confidence with your wing, understand how it moves and in a safe environment under instruction.
Why: We never stop learning in this sport. Any pilot needs to know how to handle his glider on the ground before taking to the skies.  These courses teach you how to launch safely and have total control of your glider which improves pilot security. Learning to recognise your own skill level is the first step to improving on technique and what better place to do it than in a dynamic wind, on the beach in a safe environment and under instruction.
Last but by no means least, it's just great fun and looks pretty cool too!