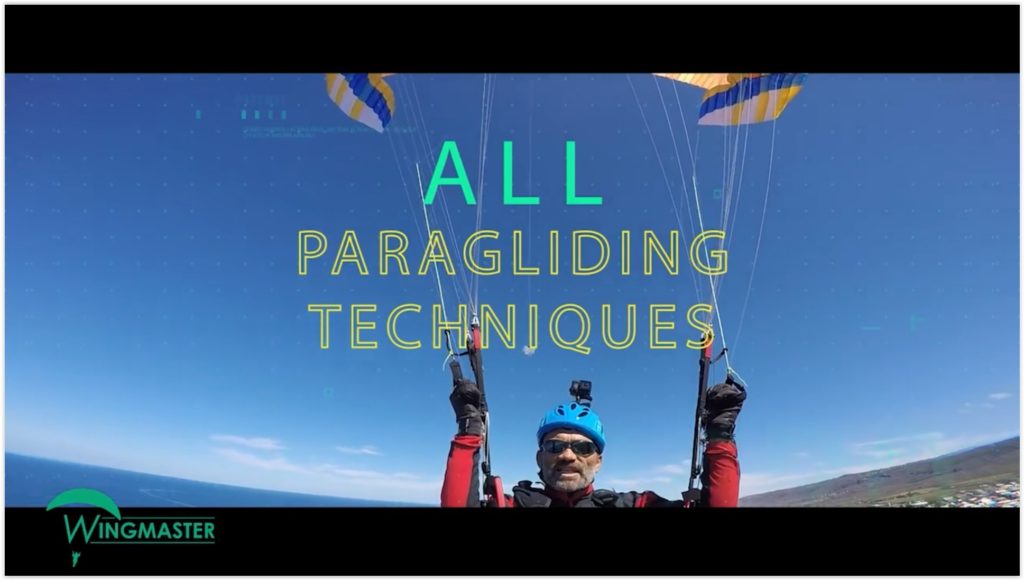 « Wingmaster », 11 hours of video to improve your paragliding practice
Learn more about all your paragliding techniques with Jérôme Canaud
WINGMASTER is the first "e-Masterclass" in the paragliding universe. Thanks to the success of the online course 100% video, which has been available in French for 2 years, the creators : Sébastien Turay (television producer, aeronautical journalist) and Jérôme Canaud, (one of the most renowned French paragliding technician), decided to provide the English version.
They point out that Wingmaster is not intended to replace a paragliding school learning but it is indeed a precious complement which allows you to quietly review at home the techniques discussed with a professional instructor in a instructional environment.
An innovative and a very effective educational tool: clear explanations and very professional videos!
The "Wingmaster" MOOC proves to be a great educational tool, complementary to traditional teaching, thanks to the large video means used: multi-angles videos allows to easily follow Jerome's gestures in flight and overlay texts greatly helps to understanding. Throughout the videos, we appreciate Jérôme's great experience and pedagogical qualities. We hadn't yet seen such good tutorials in English!
In this free episode, discover how WINGMASTER can upgrade your piloting skills.
21 episodes on the ground and in flight to improve your skills and grows up your safety. To watch again and again !
The 21 chapters of Wingmaster are not intended only for beginners but for all leisure pilots who wish to improve their skills and their safety in flight. With more than 11 hours of video (up to 8 cameras in flight), the MOOC is a great way to progress, upgrade and improve your security. The program includes: takeoffs, approaches, landing, ground handling techniques, flight incidents … And all this for the price of a day in a training school!
Jérôme shows the techniques he regularly uses for himself, but also that he teaches in his paragliding school or that he regularly provides to the autonomous pilots he meets.
He explains and clearly shows all the techniques of paragliding, and we can see him practicing from the best angles. Short texts highlight actions or provide information and graphics facilitate understanding …
All training topics are covered. For autonomous pilots, Jérôme offers to « see again all the techniques that have been forgotten or done approximately or even because some techniques have evolved with the equipment » and also deals with subjects that are close to his heart such as safety!
To be enjoyed without restraint… !
Wingmaster lessons is cut to help you progress
The 21 chapters of Wingmaster deal with the following subjects: all inflation techniques, wind and windless takeoffs, facing the wing and back sail, approach and landing techniques, flight incidents and how to manage them as well as rapid descents.
Other chapters deal with what happens when you open your reserve parachute and how to fold it very easily. Each chapter of flight advice is alternated with another of ground advice such as how to fold your wing, how to untangle effectively.
A few words from Jérôme Canaud
Paragliding requires continuous training like any other aerial activity
You noticed, after watching the free episode that WINGMASTER is not only for beginners but also for all « leisure » paragliders (even experienced pilots with more than 10 years of experience).
Matters are clear: you have to regularly review your flight techniques and update your practice. Paragliding requires continuous training, like any other aerial activity, which we forget too often. Some pilots do not dare, for example, to take a training course or to ask an instructor to review some techniques. WINGMASTER is an essential complement for pilots training.
Wingmaster is not a paragliding course. In this MOOC you will find all the techniques that I use personally and that I recommend in my training to fly well and safely: the right gestures, the right positions and the right techniques.
With up to 8 cameras in flight, you will be a privileged spectator
When you train, you know: you are the only one in the air on a radio link with the ground or in an educational two-seater. With Wingmaster, for the first time, you will be on board with me and I will show you everything you need to know. You will be a privileged spectator because in flight I have up to 8 cameras, you will not miss any of my gestures!
Jérôme Canaud