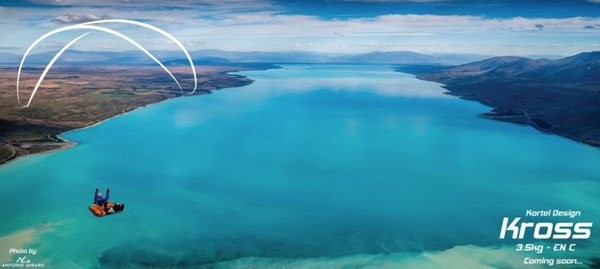 KORTEL Design unveils the KROSS: a hike & fly EN-C

KORTEL Design unveils hike & fly EN-C wing, the KROSS

Antoine Girard above Lake Pukaki in New Zealand
Kortel Design unveils the future launch of its Hike & Fly wing: the KROSS.
Although Denis and Max are not currently releasing any information about the project, we can only speculate on the finished product and prototype to be flown by Max Jeanpierre and Antoine Girard this summer during the Hike & Fly Airtour.
Nova have been in close collaboration with Kortel for their recent harness designs (Nova Altus, Nova Somnium, Nova Montis), so we can only assume that this partnership will be reciprocated. We should see some similarities between the The KROSS and the Nova Triton Light with some incorporated Kortel technology.  As for the colour, we are going to go with Orange, to match the current lightweight Kortel Kolibri harness.
If anyone has any further information, let us know…