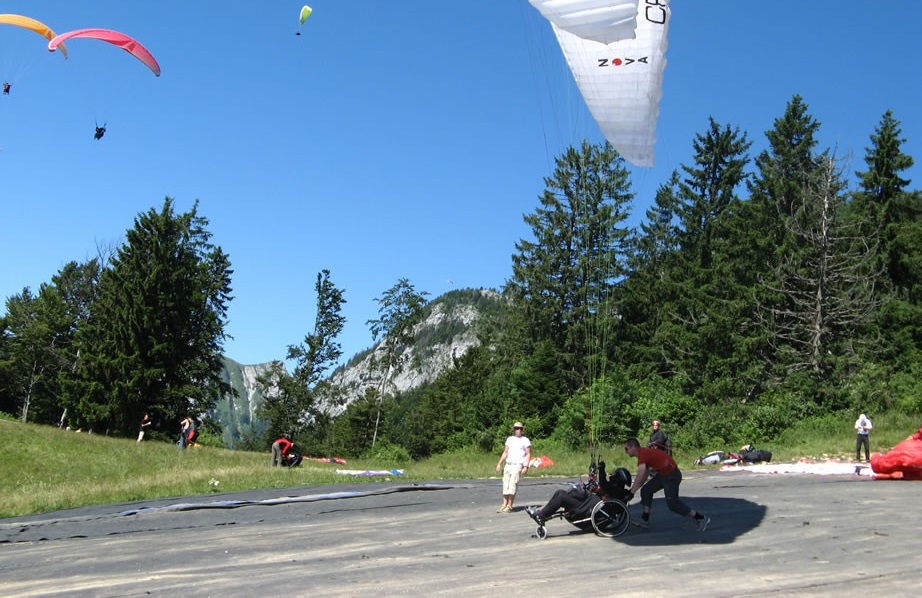 FlyChair – awesome practicality for disabled pilots
FlyChair – "If you can't walk, fly"
The FlyChair is developed in Finland for disabled paragliding pilots over 15 years ago and is now commercialised through their FlyChair website.  They have even designed a special model to fly tandem passengers.
Contrary to the some of the other buggy's on the market, the FlyChair has numerous features which makes it almost bespoke to each user: single or dual front wheels, bespoke colours for the frame, choice of carbon or spoke wheels and in a varying sizes… and all the parts are replaceable should any become damaged.
Thanks to the design of two small pivoting front wheels, it enables the chair to face into wind more easily on take-off and landing, helping to prevent the passenger from getting tipped over in a side wind.
Currently used for hill launches or towing, FlyChair are bringing out later this year a version for snow and beach terrain.   Made from anodised aluminium the FlyChair is very light and weighs only about 13kg so it is easy to transport as well as being simple to assemble using the quick-pin attachments.
There are several models and sizes available which can take either the standard or pod harness for competition pilots.
FlyChair are currently taking orders for the summer season.