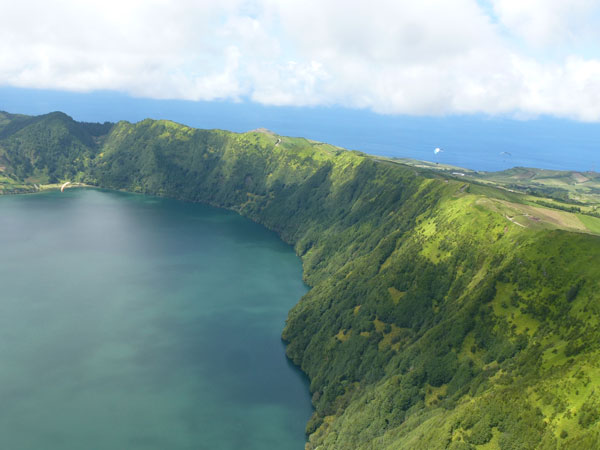 Azores – the Atlantic's best kept secret

Photo : Emma Casanova
A jewel in the ocean
The Azores are made up of a group of islands located in the North Atlantic Ocean and was named by National Geographic as one of the best island destinations in the world for sustainable tourism. Although an autonomous region of Portugal it takes only two hours to get there by air from mainland Portugal with a number of airlines offering reasonably priced tickets throughout the year.
The beautiful lush green volcanic mountains and picturesque black and white towns remain unspoilt, even though it is one of the best destinations for whale and dolphin watching and is used a "stop-off" between Europe and the America's for large cruise ships.
Each year the largest island, Sao Miguel, and its local flying club, Clube Asas de Sao Miguel ( CASM)  hosts the Azores annual paragliding festival in August. Now in its 22nd year, the festival is ranked in the Top 10 flying festivals in Europe and welcomes visitors, pilots and the locals to join in the tour of the 15 official flying sites on the island.
Regardless of the direction of wind and without having to walk long distances there are all sorts of places on these islands from where it is possible to take off from and land safely. Flying silently over the volcanic landscape, escorted by common buzzards searching for ascending air currents, is undoubtedly an unforgettable experience that will give you a craving feeling of never wanting to leave even though you have just arrived, and because of the mild Atlantic climate, pilots can enjoy the thick-piled grassy slopes and fly all year round.
Definite "must do's" are flying the many different flying sites around the island, Lagao do Fogo and Pico da Vara are amongst the more well known ones and are the island's northeast spots. Flying from Furnas you will be flying inside a volcano and is an absolute must for the experience and sheer beauty of the colour of the lakes seen from above.
Try your hand at the classic XC route connecting to Furnas, Lagao do Fogo and Sete Cidades and see if you can break the island's cross-country record of 45km's.   There are also some lovely coastal flying sites at Faial da Terra and Ponta Garça.
What to watch out for:
Airspace near the airport – contact the local flying club before flying anywhere on the island. They speak English are extremely helpful and happy to give you advice on the weather and where best to fly.

Photo : Emma Casanova
Many other activities for all to enjoy
A destination not only for pilots, you can definitely take the family; from beaches to botanical gardens, geothermic ocean pools warming the sea water to a welcoming 38°, to a multitude of other activities to do and see…I guarantee that boredom will not be on the cards!
Go diving and visit an underwater shipwreck, as well as canyoning for all levels at Failal da Terra or Pico da Vela.
Visit one of the natural "wellbeing" spots at Furnas or Ferraria or take a tour of the Tea plantation or one of the scientific observatories, if the weather takes a turn.
Hire a car and drive around the island marvelling at the local heritage and historical monuments and stop off to sample the culinary delights and local delicacies in one of the beach bars and local restaurants. This is Portugal, so we are talking very reasonable prices for all budgets.
Hiking, golfing, walking, whale and dolphin watching, geotourism, bird watching, fishing, cycling and mountain biking, surfing, sailing, canoeing and kayaking, horse riding…the list goes on!
How to get there
Most flights to Sao Miguel's airport, Ponta Delgada are from Europe and mainland Portugal: Lisbon or Porto.
Local airline SATA also fly direct from some major European cities. They have also recently introduced Air Azores to facilitate some island-hopping whilst you are there during the summer months, alternatively you can also travel by boat. Generally, public transport between local villages is also good, but a car is a must to get to all the various launches. Motorbikes and scooters are also available for hire at ANC rental.
Where to stay
There is a range of accommodation from hotels to local hostels, rental accommodation and B & B's on the web.
Useful contacts
Local flying Club: Clube Asas de Sao Miguel ( CASM) www.asassaomiguel.com or on their Facebook page
Main airlines: Azores Air, Easyjet , SATA, Ryanair, TAP Air Portugal
(Photo credits: E Casanova, Contra Tempo photos)