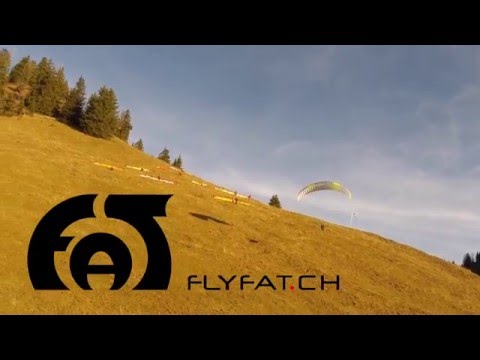 Flyfat, the new brand from Switzerland
FAT are specialists in the design and manufacturing of mini wings
Originally, FAT were a team of Swiss acro pilots: David Gétaz and Lucas Borgeaud. Since then they have broadened their activity to include the design and manufacturing of paragliding wings, kite surfs and mini wings.
The FLYFAT Tayo, a fun and agile mini wing
Alexandre Paux was part of the design team for the Flyfat Tayo.  With its uncomplicated specifications this miniwing was designed to behave like a normal intermediate paraglider, whilst providing an agile and fun feel to it.  With its small surface area, the whole design of the Tayo was kept as simple as possible.  After three years of prototypes, Flyfat came up with their finished result: "On the certification reports the Flyfat Tayo received only one "C" grade which was given with regards to the brake travel, all the others specification tests were passed with "A" or "B" grades for the 18m2 wing loaded at 85kg and the 20m2 loaded at 100kg." Both wings received the praise of the test pilot. "By reducing the load by 5kg, the wing did pass with a "B", but we prefered to register a "C" to clearly define the  agility difference between flying a regular paraglider and a mini wing; the latter requiring the skills of a proficient pilot.
David et Lucas are very happy with the results in flight with a "reasonable speed, glide and sufficient performance in thermals with regards to its size". As a whole, the wing is a pleasure to fly with all the true sensations that a mini-wing can offer.
Tayo ou Poya, depending on where it was made
The Tayo est assembled by SKY PARAGLIDERS. The same wing is produced in Switzerland at Grandvaux at MCC Aviation but under a different name: Poya.  The carry bag and brake handles are made by Flugsau in Switzerland.
The Flyfat Poya made in Switzerland
There are four other designs from Flyfat to come
What other designs are there to come?
"We are working on a 'light' version of the Poya, the Poya H2. The production team are already in action and the wing will be sold directly to the customer.  For 25% more, the test team will offer a 'Luxury Service" which will involve filming the wing during testing, a certificate and the choice of custom colours from a personalised colour picker so that the consumer can really participate in the manufacturing of his wing.
Several other projects are also on the go: a speed-flying wing, the Geronimo, (12m2 and 14m2) as well as the freestyle and acro wings (Scelerate and Mecreante).  "A prototype of a speed-riding wing has just arrived and also a small performance wing which we are working on".
The Geronimo, speed riding wing
Made in Europe
The Tayo comes in 4 versions and 4 sizes: Tayo and the 'light' version, Tayo H2, which are both made in Europe.  These wings are made in Europe.
Poya and Poya H2, are made in Switzerland at MCC Aviation in the sizes: 16, 18, 20 and 22m2.  "We are going to distribute through the MCC Aviation structure and aim in principle for the Swiss and French market."
Presentation of the Flyfat prototypes in November 2015
click on the image to enlarge