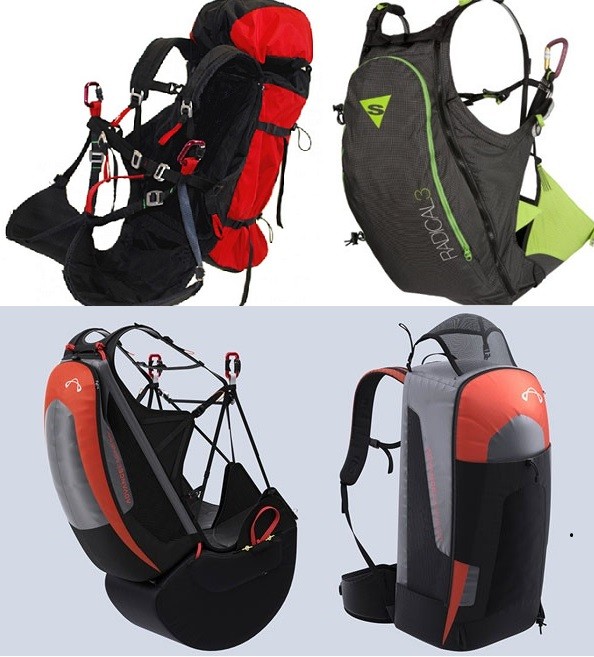 The newest of split-leg reversible harnesses from 3 big brands

Three new split-leg back-country models to choose from
The reversible lightweight paragliding harness just keep getting better!  They now come with attachments to transform them with back protection, an airbag reserve pocket and with the comfort of the split leg seating arrangement, what more could a Para-Traveller wish for!
SUP'AIR RADICAL 3
The Radical 3 is a split-leg harness which has a zipped back-pocket which enables it to transform into a complete back-country harness for only 830g!  The airbag is an option and adds on another 760g making the entire set up only 1.6kg.  Enough to make you want to travel even more with your glider… Sold with or without the 65 litre ruck sack.
More from the SUP'AIR website and on the RADICAL 2 here
SCORPIO ALPAGE
French brand, Scorpio, have come up with an innovative concept for their new reversible split-leg harness, the Alpage: it uses the same shoulder straps for carrying as it does for flying.  This means more room for back protection which is included.  The Alpage can be used for paragliding as for Speed-riding and can also be equipped with a removable air-bag.
As with all Scorpio harnesses they can be personalised with your own design and choice of colours.  Available in two sizes: Small and Medium-Large, and all other sizes can be tailor-made! The harness is sold with rucksack and airbag. Great value for money!
Scorpio are running a spring season promotion with a 30% discount. You can purchase online.  Although the website says you can read it in English, it is indeed in France but fairly self-explanatory. Any problems we'll give you a hand.
Find out more the SCORPIO website on the ALPAGE here
ADVANCE EASINESS 2
Advance has renewed its reversible split-leg harness to this new version, the Easiness 2, which is even more to offer in terms of practicality and comfort.
The shoulder straps have been made larger and the split-legs longer giving additionnal comfort to the taller pilot.  The EASINESS 2 comes in two sizes, M and L, both with a removable airbag which has an integrated reserve container. The harness without the airbag weighs 1.47kg (1.9 with airbag). Although not one of the lightest or cheapest it is compact The backpack container holding 49 litres for the M size and 57 litres for the L.
Find out more from ADVANCE on the EASINESS 2 here.