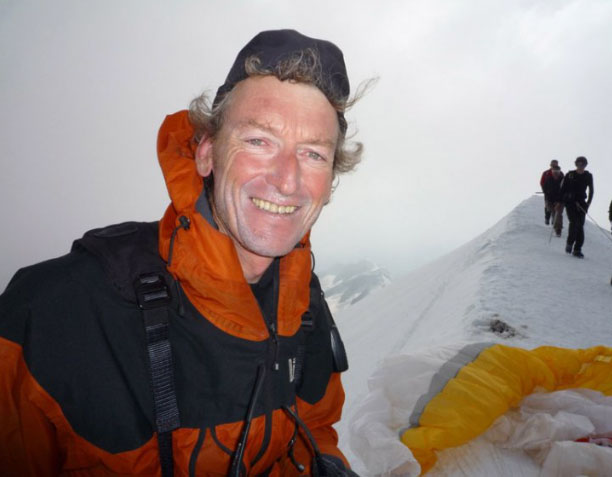 Our respects to Pierre BOUILLOUX – a great man

Hommage to a legend and a great man

Many well-known faces from the paragliding community joined hundreds of friends and family members, filling the village church of Viuz-la-Chiesaz on Monday 28th December, to pay hommage and to celebrate the life of Pierre Bouilloux, a legend and a great man.
Pierre Pagani, friend and publisher of Parapente Mag writes:
"On 22nd December 2015, Pierre Bouilloux, the founder of Sup'Air, ended his life. A part of me is now lost. We all admired Pierre, his triangle records, his long vol-biv flights, and the superb harnesses he created which reached the pinnacle of success. For many, he was a spiritual Father, but the claws of life had already left their scars and it became increasingly harder for Pierre to face the challenges of every day.
We spent many a time together in the Sahara: he would talk to me of his quest for God and his project to expand the small sewing workshop, whilst I would explain my project of starting up Parapente Mag. That was in 1987, between Tamanrasset and the Père de Foucault Refuge, where we had come to climb and fly. Pierre at the time was a well-known hang-glider pilot and Alpinist, having opened several big routes notably on the north faces of Olan and the South side of La Meije. In the evening we would sleep under the stars wrapped in our sleeping bags on the sand. Under the clarity of the Sahara sky we watched the millions of stars and talked of our projects.
Pierre soon left Paris and his career of Physiotherapist behind, to start a flying school in Annecy, teaching hang-gliding and paragliding. Based at 12 rue Mandallaz, the school housed a few sewing machines that enabled Pierre to create the first free-flight harnesses. Those nights in the Sahara, Pierre first spoke of his determination to develop the workshop to follow the growing trends of paragliding, and I mentioned my project of creating a paragliding magazine. Openly exchanging our dreams, we mutually encouraged one another with optimism and enthusiasm. It was from those shared moments that Parapente Mag and Sup'Air were born.

Sup'Air grew to become the most prominent French free-flight company to manufacture and distribute harnesses worldwide, but in order to differentiate the flying school from the workshop, Pierre preferred to continue the latter under the name of "Grands Espaces" with Philippe Paillet and Damien Bertrand, and parallel to that, he created the repair and control centre, Rip'Air, with Bertrand Maddalena.
Whilst working on new harness designs and growing the business, Pierre continued to fly much of the time with the same rigorous perfection he applied to his work. The simplistic and playful aspects he enjoyed so much from paragliding were translated directly from his passion for hang-gliding. As a pilot, Pierre continued to multiply successes, beginning with an out and return distance of 130km in 1992. In 2003, he held the world distance triangle record (237km), which remained unbroken for 12 years!
With his idea of Cap 111, he also opened up the way for vol-bivouac. Each summer he would venture alone into the mountains to find solace and respite. He covered long distances and returned full of poetic recitals which he offered to Parapente Mag. During these trips he read a lot. One day he called me to say that I must read a book by René Barjavel entitled "La Faim du Tigre (translation: The Tiger's Hunger), and which I am going to read again now that Pierre is gone. Pierre was one of the rare men in search of true spiritual guidance… a quest sometimes so intense that it did not make his life easy, or sometimes quite the contrary, it helped to appease the difficult times. One would have to read The Tiger's Hunger to understand the intensity of Pierre's universe and spiritualism.
His long vol-biv journeys, often lasting several weeks in total solitude, were a symbol of his severance with the routine and comforts of every day life, and no one I know ventured further into this genre than he.
When he had the time, he loved to fly the Trélod in the Bauges, his little paradise he called it. Didier Favre had taught him to play the harmonica and it was at the Trélod that he loved to play. A perfectionist in everything he did, he extended his talent to play with the best of those musicians, Jean-Jacques Milteau, for example.
During his summer flights he often landed at our house and stayed for several days. We talked about our times in the Sahara. One summer he suggested landing on the summit of Mont Blanc to Kti, taking-off from Plaine-Joux where we spent our holidays. Another time he called us when he was feeling low. We had planned to leave for Morocco the following day and we encouraged Pierre to come with us. He came and shared some of the most simplest of flights, with a mountain wing, a string harness, no helmet or parachute: this freedom and purity of flight helped him regain his positive moral.
In recent years Pierre called me often, almost every week. The world of business was taking its toll and he found I difficult, and involved in a helicopter accident earlier this summer,  he lost with it one of his pleasures and also that of a future project. Those of us close to him encouraged him to stay positive and see all the good things that surrounded him, starting with his beautiful partner, Linh, and little Mireille for whom his love ran deep. His long-time friend, Vincent Sprungli, tried all he could to extract Pierre from his downward spiral. In vain, we were all unable to respond to the urgency of Pierre's last and final cries for help.
Our thoughts are with his mother, Stéphanie, Elodie, Linh and Mireille."
Translated from French @ www.parapentemag.fr
See also: http://www.bornestofly.fr/disparition-de-pierre-bouilloux/
Photo credit: Stéphane Boulanger