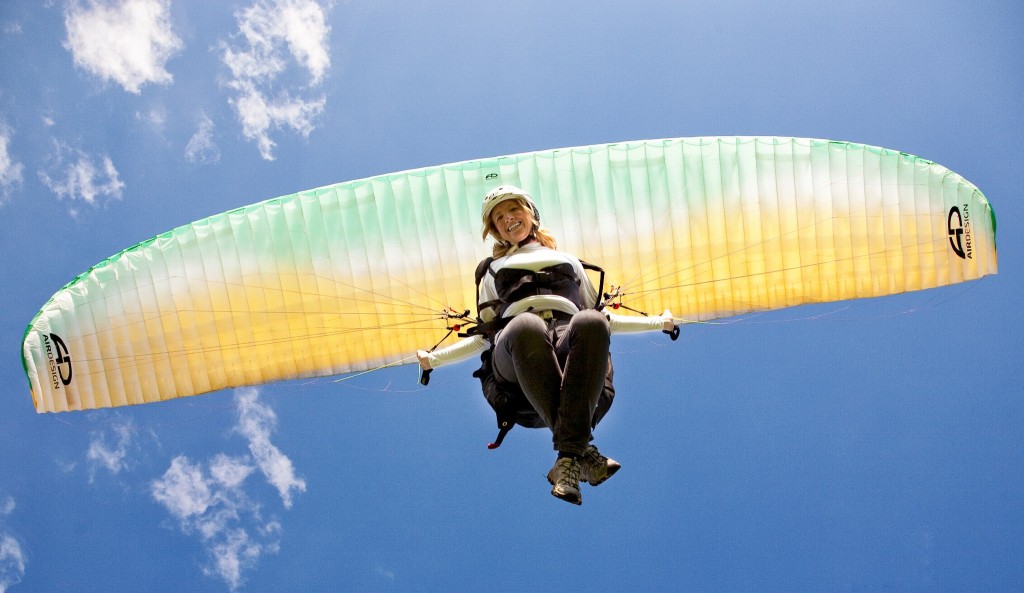 Austrian champion Michaela Brandstätter portrait
Michaela lives in Innsbruck in Tyrol Austria. She started paragliding in 2006 and spent his license the same year. The following season, she made the course for long distance flying. And in 2008, she made the tandem licence. In 2009 and 2010, she trains to get into the Austrian League.
During the seasons from 2012 to 2016, she won the Austrian championship 5 times in women XCflying (XContest Austria). In 2016, she was champion * Women's World XC paragliding and XContest MAKE WXC (see article). Since 4 years, Michaela, busy with her job at the check centre PARACLINIC, make more than 100 hours per year.
How did born your passion for paragliding?
When I was 18, I did a tandem flight, and, since that time, I always wanted to learn paragliding. Some years later, after school, I had time and enough money to get into this sport. The first two years, I had a lot of time and therefore lots of flights.
Progression went well also with the help of some friends who reached me self-confidence and not to overestimate myself. 2006, I started paragliding and did my licence. The following season, I made the course for long distance flying. In 2008, I made the tandem licence. While the seasons of 2009-2010, I trained to get into the Austrian League. In the seasons of 2012-2016, I have won the female Austrian Championship in XCflying for 5 times (xcontest Austria). 2016 Female world championship in XC paragliding on xcontest and FAIs wxc
What are your favourite paragliding sites (XC, hike and fly…) and regular flying sites?
My favourite spot is Grente and Speikboden, in south Tirol, because I really love the mountains there, and it`s just 2 hours from my living place. But, I also love to do some local vol-bivi adventures in autumn.
To feel free in pristine nature spots like Castelluccio are perfect. It`s the best place for me to train on my ground handling skills. Just like the Dune du Pyla (France) without sand.
My first flying years, I spent most time on Gaisberg and Bischling some local sites in Salzburg. I was born there and these were my first sites to play around.
And your job? Is it in paragliding universe?
Yes that's true, my job has also to do with paragliders. Since 4 years, I work at Paraclinic. We check, trim and repair gliders from different manufactures. We do also the packing of all available rescue systems. Another part of the job is plot and stick logos of sponsors into gliders.
We do have a lot of well-known pilots of the league, PWC and X-Alps athletes as clients. All in all it is an extremely interesting job, and I love to go to our workshop every single day.
What are your other hobbies, sports ?
I have a normal 40 hours job in a Check & Repair Centre called Paraclinic. So I have not more leisure time than anybody else. The most important thing for me is to spend time with my friends. We go hiking to the mountains; we do some vol bivouac fly, sometimes. In the evening, we spend some time on the balcony for an after work beer. And once a year, my friends and me go on a sailing trip for a week.
My other hobbies? This year, I tried to learn kayaking, and in winter I will try kitesurfing. So, I think I have a normal life like most other people.
Why did you choose the Volt 2 for flying cross country and what are the gliders characteristics?
During long cross country flight, the VOLT 2 Superlight is the perfect companion for me. The glider is extremely balanced, giving me a lot of confidence while flying. It is just rock solid also on bar. Even after long hours of flying in strong conditions, I do not get tired.
Another point is the impressive climbing abilities and it´s easy handling.
The Superlight edition of the VOLT 2 weights only 4 kg. I optimized my equipment to hike up to the launches like Grente. The small packing volume and the lightweight come in very handy if you have to carry your whole equipment.
As I am working in a Check Centre, I know a lot about materials and manufacturing quality of gliders. AirDesign offers top-quality on all gliders. I would not go for less!
Whishes' to other pilots?
Open your mind, realize your abilities, feel the nature, take care, fly save, happy landings, recognise, that it`s an privilege to go flying in our nice nature, so treat it with respect.