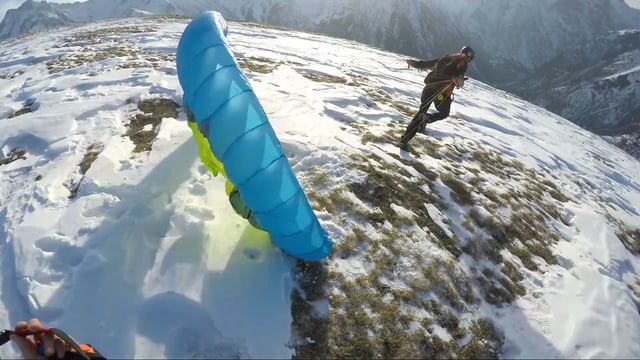 OZONE Rapido, first impressions by Joseph Innes
Before, Joseph Innes flyed with a SWING Mirage. At the end of the year, he acquired an OZONE Rapido. Because winter is capricious, it was not easy to make pictures. At the beginning, ROCK THE OUTDOOR proposed to the chase pilot Dob Durden to follow him with an OZONE Firefly 3 (in review): "it is not possible René, the Joseph's glide is too rapido!"

Joseph Innes, 23 ans, vivait auparavant en Angleterre. Il a quitté son pays et son job pour vivre à Chamonix et assouvir sa passion.
This was my first time in Les Deux Alpes. It's smooth, grassy and lift accessed lift accessed, speedflying terrain. Unfortunately an inversion in Venosc stopped us flying to the valley floor, but the Diablo chairlift offers a nice playground for cruising. I know there is more potential for steeper and longer lines, and awesome hiking to be done in the area.
I'm less than 100 flights on the Rapido, so still adjusting to a new wing. What I can say for now is that it retains so much energy, and has the most incredible range. I love steep terrain, I'm pleasantly surprised how the Rapido does too. Don't think this is a glider for cruising in the flat.
Compared with the all-time speedflying benchmark, the Mirage; the Rapido needs a steady hand. I love the direct response & feedback, and the small dead-zone on brakes. It feels awesome. It's the perfect toy for an advanced pilot who enjoys the maximum range and energy retention of gliders I've seen to this day. Load it properly, and it's a charging machine.
I want to thank my friends Dob Durden and Jan Thinoks for a great couple of days filming. 2Alpes is a place still new to me for speedflying. There is some really great terrain, and some great looking new objectives with some hiking. I can't wait to go back and take a better look.
Joseph Innes
Dob Durden "chase pilot" – Jan Thinoks video edit