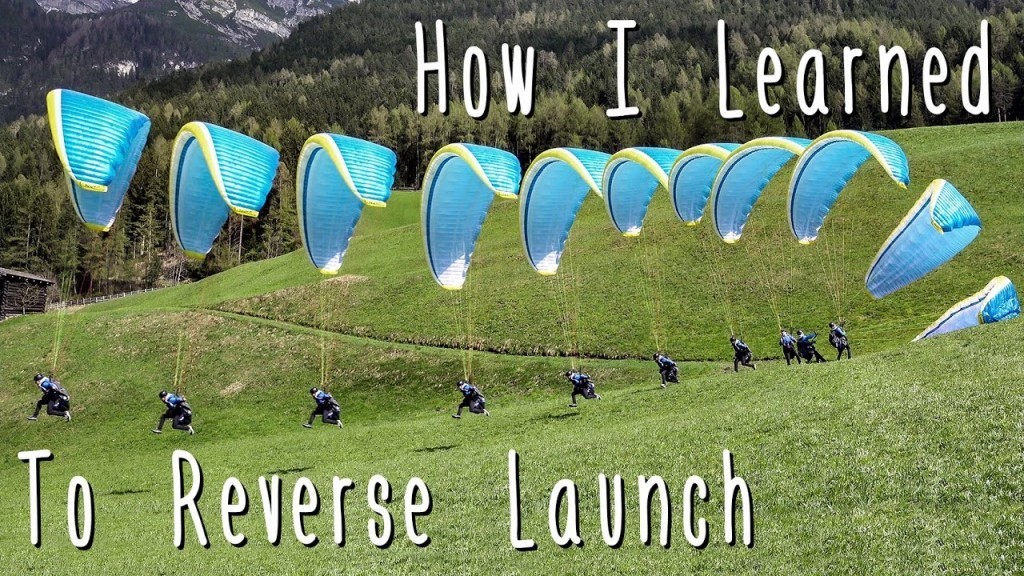 Reverse launch – advice from Kent for a safe take-off
When the video helps to improve his technique of reverse launch and take-off
Jesse Kent, born in California, has lived in Austria since 2012 where he started the sport of paragliding. Videographer and photographer, he decided to create a tutorial about reverse launching. But before he did that, he needed to train for many hours to fully understand all the stages of the reverse launch. In the end, he produced a very informative tutorial. This is perhaps the most complete video tutorial that can be found on the web, bringing such pertinent advice on all the steps of the reverse launch, from hooking up all the way to liftoff.
As a professional photographer with a passion for paragliding, Kent has also created a website where he publishes tutorials and reviews: "I wanted to show the world that Paragliding can be accessible, easy and fun for just about anyone! I progress through the sport, and teach people what I've learned along the way".
When Jesse Kent thinks back before he decided to write this article, he remembers that "my reverse launches were sloppy, inefficient and worst of all.. extremely unsafe. I have been lucky though, and nothing bad ever happened, but the possibility was always there".
Before making this video and writing his article (to read here), he realized at least 300 reverse launches : "I tried every technique possible, with three different glider sizes: 18, 24 and 28 m². I wanted to really test all the different techniques, and find out what really works and what really is SAFE! And I think I was very successful in doing that.
From this point on, my reverse launches will be masterfully done, with a major focus on keeping things safe and leaving little to no chance for bad things to happen ever again.
Follow my article (read here), study it and practice it, because once you have mastered a safe and efficient reverse launch, you'll be able to takeoff with an easy mind from that point on. It is that easy mind that is critical for making the sport of paragliding enjoyable".
If the take-off was a formality, the flight would be a total pleasure
Take-off, the most stressful flight step for many pilots
For many, if the take-off step was a formality, the flight would be a total pleasure! Unfortunately, this step is poorly controlled by a large majority of pilots. Maybe the paraglider is by default suicidal, or maybe he agrees to live in denial of the perfect take-off, deciding instead play Russian roulette with his life, betting on the god Icarus to help him reach the heavens.
Repetition to assimilate gestures and develop sensations
It comes as no surprise that to get to this level of reverse launch and take-off, Kent did a lot of training. He says he has done more than 300 reverse launches with several sizes of gliders. The repetition of the exercises allowed him to fully understand this flight step and develop his sensations: glider handling, body and glider situations in space, resistance and behavior of the glider, dosage of controls and take-off running… Motivated and helped by the shooting, he cut and analyzed all the sequences of the launch / takeoff to detect weaknesses in his technique.
The technique of reverse launch is only a matter of sensations
No secret, if the advice is precious (and those of Kent are), there is no miracle, only the repetition of the exercises by extensive training will allow you to improve your… refining your gestures while developing your sensations. And like Kent, realizing the technique of reverse launching until the end, which is to say until the end of the take-off running.
Hey, guys, that's it, I got it!
Whenever you uttered these words in your life, you surely had a smile to the ears. When the day arrives that you will pronounce these words at the end of the flight, it is that the step of inflating face sail and takeoff will become a formality for you and that your flight will become 100% pleasure!
Before starting your next training session, watch this video, because there is certainly precious information that you may not have realized so far.

Where are you from and why are you living in Austria?
I am originally from California, that's where I grew up and where I spent most of my life.
I was stationed in Italy with the U.S. military, I use to take trips up to Tirol for snowboarding, and I met my future wife one night while I was in Innsbruck, the rest is history!
When did you get into paragliding?
After I moved to Tirol with my wife I decided to learn paragliding. My original extreme sport of choice back in America was motorcycle racing, but that was no longer a realistic thing for me to do here in Tirol, so I decided on paragliding, and I'm sure happy I did!
What's your real job?
When I'm not busy making videos and photos for fun, I'm making videos and photos for my job. I started my own video production business and I have my studio here in Tirol.
Do you do anything else for fun?
I do almost all the typical mountain sports, and I just got into downhill mountainbiking, it's getting really big here in Tirol, and the downhill runs are springing up all over the place.. nice to get back to hauling on two wheels.
Why do you like ROCK THE OUTDOOR?
You guys are already doing what I want to do, you're spreading the word of paragliding and you make it seem more friendly and accessible by providing much needed information and knowledge! That's the key I think, if you give people the knowledge, they will be much more likely to enjoy the sport.