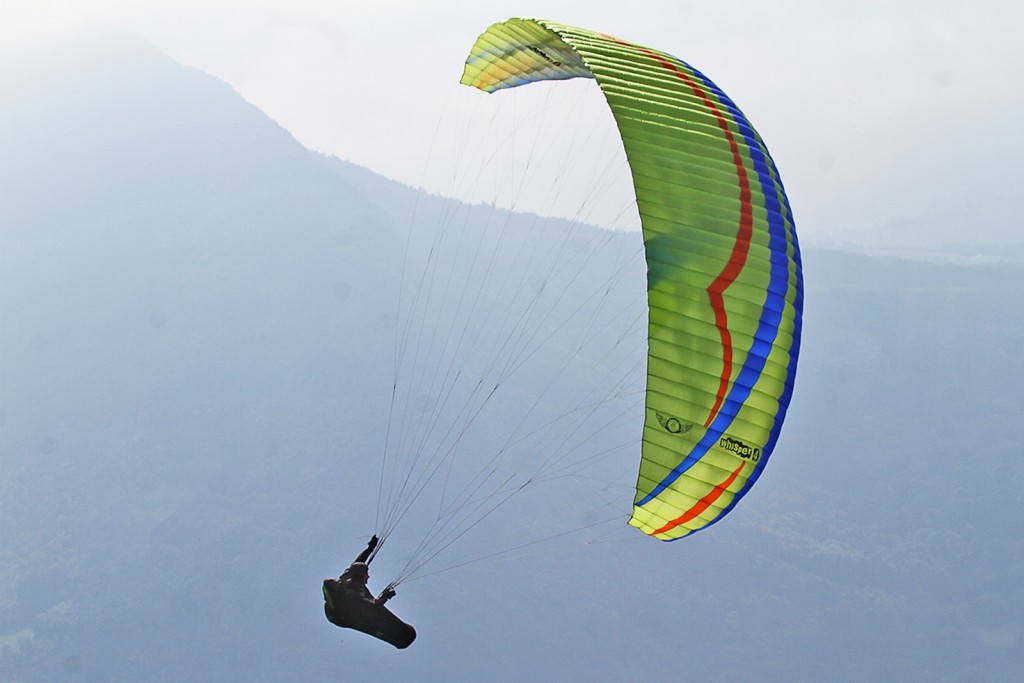 Flying Planet – Closer to the people
Flying Planet is a French brand who is based in Talloires, France, opposite the landing zone of Planfait. Michel Le Blanc, designer of the very first paraglider back in the Mieussy days, runs the company with Antoine Badin.
A new concept for FLYING PLANET : direct sales
Flying Planet is a small family oriented business and today, has an new concept for distribution and direct sales to the pilots through their website.
Gliders at affordable prices
FLYING PLANET's wish is manufacture affordable wings for pilots to enjoy, and to enable this concept they have had to make some radical decisions which may not go down all that well with some of the local dealers. However, using their test centre as a base in Talloires (Lake Annecy), and their website as an online shop, Flying Company, Flying Plant has opted for a one-to-one approach and a personalised service for its customers.
For pilots who are unable to visit Flying Planet personally, the company will despatch directly to the pilot so that it can be flown in the pilot's natural flying environment. After all, not everyone enjoys mountain flying and although it is spectacular, testing a new wing in a strange environment can be a little intimidating. But for those lucky enough to sample the delights of flying in Annecy, FLYING PLANET offers a personalised customer and support service for each pilot wanting to test their gliders: transport to launch, with help and advice on take off and a retrieve on landing. A true VIP service and reward for flying beneath the brand.

Antoine Badin and Michel Le Blanc
Keeping in touch with the pilots
Much of this happens in Annecy. Michel Le Blanc continues to design wings for FLYING PLANET in an area adapted for flying pretty much all year round. His technical ability and extensive knowledge in the aerology industry has evolved with time, and has been rekindled with the assistance of Antoine Badin, Michel's right-hand man. Antoine is also a designer and technician, and tests the prototypes together with the collaboration of other key partners and experienced pilots. Antoine also has the busy task of managing the commercial sales, but coming from an extreme enthusiast and speed-flying background, has been working within close proximity of customers of all ages and abilities all his life. His skills intermingled with those of Michel, equate to an identical passion for fun and performance.
With experience, comes wisdom. FLYING PLANET have found that having only a few references in each category is enough and that quantity does not mean quality. They have wings referenced in all the major glider cateogories, from novice to performance wing, FLYING PLANET is confident that they can find a wing to suit pilots from their existing wings or from one of the three  "all-rounders" newly released this year.

Neatly stacked wings at the ready
Flying Planet new wings for 2015
FLYING PLANET Spirit 3
The next generation of its predecessor, the Spirit 2, is the new version and certified EN-B. A versatile wing for pilots fresh out of school, which aims to serve as a first glider which leaves room for progression whilst offering safety and reassurance to the pilot. The Spirit 3 offers the autonomous pilot enough performance and enjoyment to continue progression over a lengthy period. The new version offers the pilot easy handling and launch characteristics, and once in the air, its precise turning is ideal for a taste of the first thermal and cross-country experiences.

FLYING PLANET Whisper 4
This EN-B+ wing incorporates the latest "shark nose" and "rigifoil" technologies, has an improved leading edge and an aspect ratio of 10. Lighter than its predecessor, the Whisper 4 also has less lines. Although a high performance glider in its class, it is still accessible for recreational pilots without compromising on the safety elements, even in active air.

FLYING PLANET Shooka
A "Best Seller" in its class, the Shooka is a performance mini-wing and available in three sizes. The wing is lively and responsive with a good overall performance. Reactive and lightweight, it is the wing always to have nearby so as not to miss out on a great opportunity.  FLYING PLANET Shooka 15 A mini-wing and a pioneer in its class due to its versatility. In stronger winds, mountain flying or in sea breeze, the Shooka 15 boasts extraordinary comfort and manoeuvrability.  FLYING PLANET Shooka 17 A wing is amazing performance. While retaining the playful characteristics of the 15 and the performance of the 19, the Shooka 17 is light-weight and therefore ideal for mountain hike and fly or for coastal soaring in stronger winds. It has a surprising climbing ability in thermals and because of its lively nature and performance, has been certified to the EN-C category.
FLYING PLANET also produces tandem gliders, acro wings, mini-wings and recreational paragliders.
Discover the full range on their website

Emma Casanova interviezed Flying Planet's Michel Le Blanc (CEO) and Antoine Badin (Sales Technician) on 17th June 2015.

Once Upon a Flying Planet…
Before making gliders for ITV, Michel Le Blanc manufactured parachutes for France Parachutes (parachutes de France) until in the mid-80's, ITV asked him to design a "real glider which flew".
Asterion, the first french paraglider
It was on the hill at Mieussy that the first french-made paraglider flew.  It's name was the Astérion.  From that day, simple "hill-gliders" became "paragliders".  Soon after that the sport of paragliding spread like a virus, and schools with their own teaching method popped up everywhere in Europe.
The race to create
The Astérion was a great success and was commercialised in large quantities in France and aboroad over a period of 10 years.  Naturally, other brands with their own ideas and greater financial means followed suit, all of whom eventually became too competitive for the continued production of the Astérion…
Manufacturing complications
With the manufacturing constraintes of sub-contracting and at a time when competition was fiernce, ITV decided to stop producing and left its place to the others.
Confidence from ITV's working partners nevertheless continued to believe in Michel Le Blanc's talent and good work and in 1995, FLYING PLANET was born in partnership with Aérodyne, and together they built a manufacturing outlet in the Mauritius Islands.  A story which sadly came to an abrupt end due to a tragedy and the factory closed its doors putting FLYING PLANET in difficulty once more with production.  However, the little brand was tenacious and once again, Michel Le Blanc went in search a new production partnership.
Each paraglider takes 30 hours to make.  In addition to that, the making of the lines, the risers and other components preceed the final testing and verification of the finished product.  It is important to find a manufacturer who takes their job seriously, and thanks to a long list of loyal supporters, FLYING PLANET was able to carry on with the same production unit which continues today.