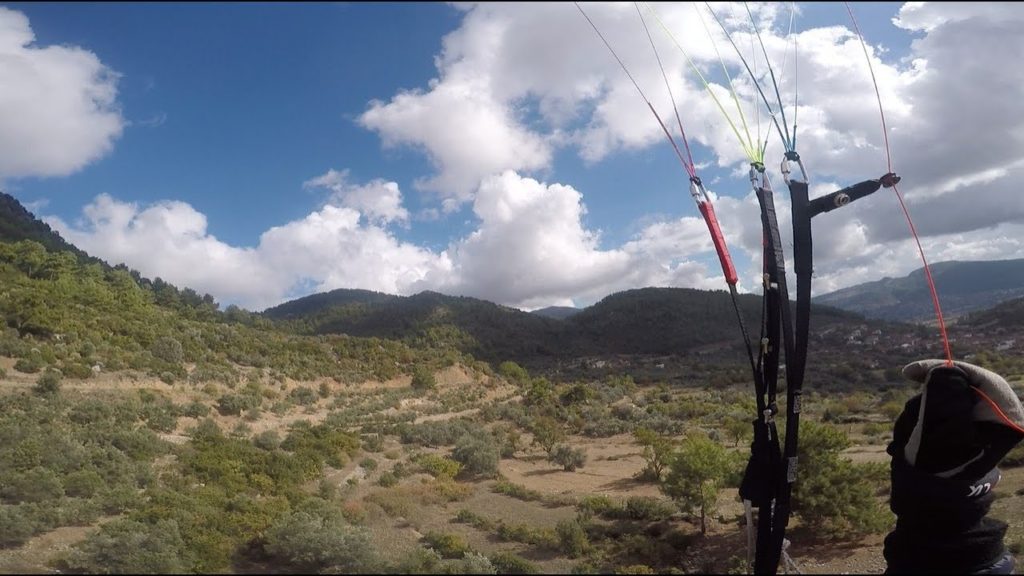 He fight at 10 meter height and reach the cloud ceiling in few minutes
Turkey in october, it is still good enough for thermics, even near ground level!
Maximum focus for this pilot from ukrain who tookoff from Babadaga in Turkey and who does a low save, flying at few meter height at the bottom of a montain. Not willing to land, he is fighting continuously with his SKYWALK Chili 4 to finaly get a thermic. 
Extreme focus and sharpe steering but really fun when it climbs!
I love getting in such situation. It is a great feeling when you can get away from the ground after a fight in small condition and being drifted! I often get better reward in fighting near the ground than to circle climb high up to cloud ceilling. After when I have reach the cloud ceilling, the flight could have ended here, so much that pleasure is intense in succeeding to extract from so low level.
Discover hereunder the advice from Honorin Hamard and Maxime Pinot

Advice from Honorin Hamard and Maxime Pinot
ROCK THE OUTDOOR asked 2 champions, both coming from the plain, to propose their advises.
Advices from Honorin Hamard
My motho: "do not give up ! At 20m/ground, you are still flying!".
For plain flight, it is never the end. We can catch themic at their very bottom, like close to power lines:) A lot of pilot give up because they decide to land safely or because they do not have hope anymore.
You have to fight , even sometime to circle for zero and drift to wait that the cycle reach another source that will bring the solution. It is technicaly advance and require precision, patience, some mental view of the sources to understand how they organise and how they drift in the wind in the various level.
Let you drift and try to climb.
Some sources go by, the pilot shows great patience and manage to catch a nice bubble. Well seen but in plain you can't have dynamic flight like on this hill and you have to renew this survival operation in the plain above appropriate zone for thermic trigger with high contrast. You need to let you drift and then try to climb again.
In montain area, when pilots are in the valley they land.
Most of the pilots fly in mountain and are not aware of phenomenons that occur in plain. Indeed, mountain flight are very much different since the source are coming from sunny slopes and stop more or less , depending of season, the sources in valley. Then often in valley, one finds only few little thermic swept by the breeze. When the pilots are in the valley, they land.
Follow up the bubble or go and fight it.
Indeed, we often have one chance to get out of these situations. You better be ready to follow the bubble with gentleness and grace of a dancer, or to go and fight it, with the firmness and authority of a boxer. It is the bubble structure which will tell you which one to pick.
As soon as a solid core goes under your wing, be agressive.
As you can see, your portfolio of thermic technics need to be as large as possible (practice!). It is necessary to know how to stay at zero rate by optimizing the rate of fall to the maximum by turns rather flat, without rushing your machine to keep all your glide and not distort your feelings and information from vario. But as soon as a solid core goes under your wing, know how to change gear, be more agressive, with short curve radius (dynamic turn rhythm), even by burning a bit of sink rate.
– Always have multiple plan A, B, C, D etc. And this way before the crisis. ounce you are in trouble, it is too late.
– Know how to focus on his feelings to be effective on the drift and against the oval shape bubble .
– Kickly build a mental scheme of the bubble structure (be aware that during an homogenuous day, the thermics have very similar structure).
– Open widly your eyes to find objective evidence of lift up. This mean that you can re open your field of vision which is getting narrow in stressful situation.
– If the situation becomes desperate, lean back, even if it means turning back, to increase your chances of going back up.
– Breeze!
– Train yourself and like Hono says: do not give away anything, never!
Translated by Daniel Gras