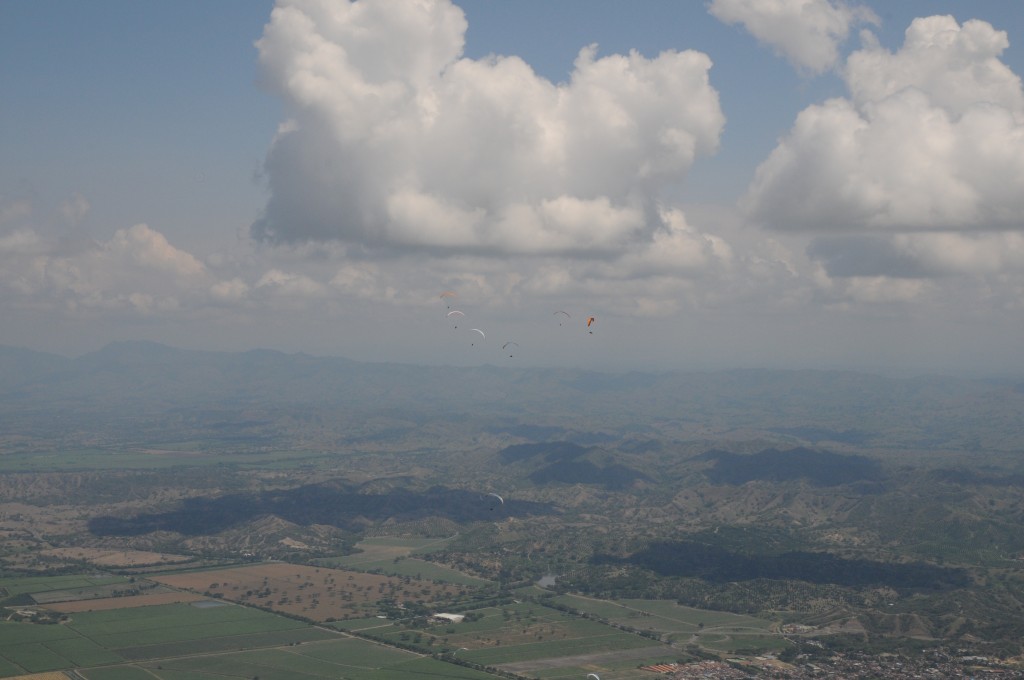 THE TRAVEL SHOW – Panorama on Roldanillo, Colombia
3 September 2015
Who: Roldanillo Valle, Colombia, South America
When: December-March or July-September
Why: Roldanillo it's a great way to keep your hand in during the long European winters. It has in recent years become a well-known competition venue with events often back-to-back, so if you are enrolling in a comp, plan to stay for at least 2 weeks to make the most of it. Conditions are consistent and for all levels of pilot skill so if you're looking to free-fly, Rolda's three take-offs, Pico, La Tulia and Los Tanques, have more than enough to offer, however there are also guided tours which take you to fly other parts of Colombia further afield.
Cloudbase is up to 2300m (do check for local airspace restrictions) and you will hear your vario sing from the moment your feet leave the ground. Flatland flying here is amongst the best and has Roldanillo has been voted into the Top 10 best places to fly around the globe.  Every day is flyable even though it may drizzle in the morning and cloudbase is round your ears when you arrive at launch. The Roldanillo will consistently spread its magic and break up the mist to reveal blue skies and a wide open valley with XC potential as far as the eye can see.  You can fly anywhere and the pastures are unfenced making landing out and getting to the nearest road for a hitch back to town easy. The locals are very friendly here.
The local paragliding community provides an efficient transport system, whether in a competition or on holiday and there is always transport available from the south-east corner of the main square, the Parque Centrale. Whether this is with a 4×4 truck or locally-organised transport, the vehicles will usually leave when they are full of pilots. Alternatively you can get your own taxi or negotiate your own chauffeur for the duration of your stay.
How to get there:  Fly to Bogota and then a local in-flight connection to Cali, Pereira or Armenia, where you can get a local bus or taxi to Roldo.
Where to stay: A variety of places in abundance at reasonable prices, from out-of-town guest-house accommodation, to hotels and rented self-catering. The comp's HQ is right on the main square, Parque Central, so "après-para" is never far away and the town comes alive after dark at weekends with music, dancing and market fayre. During the week, the place is reasonably quiet.
Weather conditions:  Rolda faces east overlooking the Valle de Cauca in Western Colombia.  The flying starts early with the breeze easing itself onto launch by early morning.  Thermic flying starts soon after that, and conditions are mellow.  However by midday, the Pacific breeze kicks in from the west and comes over the back of launch drowning any thermal activity until later on in the afternoon.  Usually pilots fly the hills at the beginning of the day until the west wind comes in, at this point pilots head for to the flats where there is virtually nil wind.  Locals generally don't bother to consult a local weather station, but will simply look to the sky briefly and say "everyday is flyable!". For your own piece of mind you can always check your own weather buzz, alternatively the trustworthy www.meteoblue.com gives a reasonable forecast.
Essentials to take:  Mosquito net, travel adaptor as the voltage is different to that in Europe, unlocked mobile phone to house a local SIM card, ear plugs and lots of sun cream. Also local currency, although guidebooks say you can use US$, they are not widely accepted in Roldanillo.
Watch out for:  Giant cockroaches scurrying around your room at night (turn your shoes upside down!), accommodation with no hot water (the locals don't rate it as a necessity), calorific food! (chicken and fritters seem to be the staple diet with much of it deep-fat fried. If you are wanting a "green" fix, best head to the local supermarket).
Other activities for non flyers: horseback riding, visits to local coffee plantations, Lake Calima on the way to the Pacific coast, wine-tasking.
What you bring back: A massive grin, and +++hours in your flight log book whilst everyone else has the winter blues.