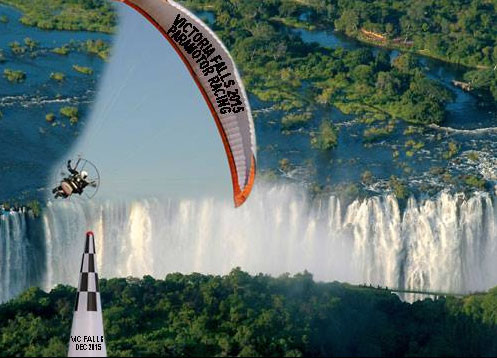 A first for Africa as paramotoring competition reached Zimbabwe

FAI paramotoring race to be hosted at Victoria Falls

Africa is to host its first paramotor race this year between from Victoria Falls, Zimbabwe.  Lawrence Modamombe, the event's Organiser, has announced that more than 22 participants including the Black Hawk Team from the USA, Spain, Argentina, Austria, Portugal, Ozone from France, Netherlands, Belgium, Italy, Hungary, Poland and the UK, have all already confirmed their participation for the race event scheduled for the 2-6th May 2016.
The race will be staged at the Victoria Falls Paramotor Racing Club who are an affiliate member of the Zimbabwean Air Sports Federation as well as being the focal aviation body for flying sports in the country.
As for the course, the race will start at Elephant Hill Hotel golf course, from there the competitors will make their way towards the rain forest in the direction of Victoria Falls bridge, then follow the north shores of the Zambezi River before returning to the start point at Elephant Hill.
This is the first race of its kind to take place in Africa and will be held in accordance with the FAI.  Some of the world's well known pilots such as Cade Palmer, Loren Cox, Karl Steslicke (USA), Raffaeile Benetti, Leonardo Pezzini, Pasquale Biondo, Bruno Madaffari (Italy), Javier Tejeiro Lopez, Manual Tejeiro Lopez, David Tejeiro Lopez (Spain), Filipe Peremans, Guido van den Eynde, Ellen van Weehaege-Meeuws (Belgium), Miron Antipov (Estonia), Emilia Plak (Poland), Hernan Pitocco (Argentina), Pal Takats (Hungary), Mark Mogan, Marcus King (UK), Carlos de Oliveira Gabriel (Portugal), Robbin van Herwaarden (Netherlands), are expected to participate in this inaugural annual event.
Source: Zimbabwe Chronicle