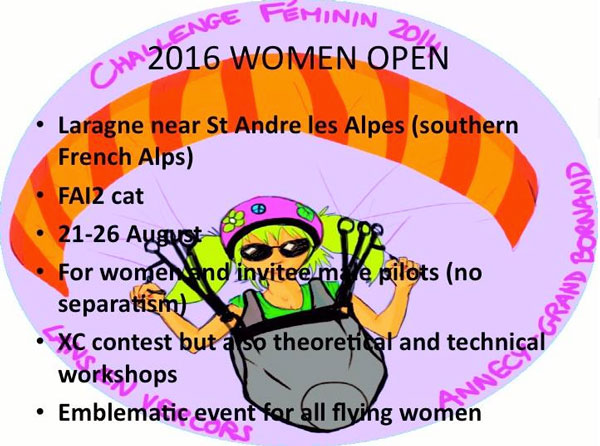 Women's Paragliding Open 2016 to be hosted in Laragne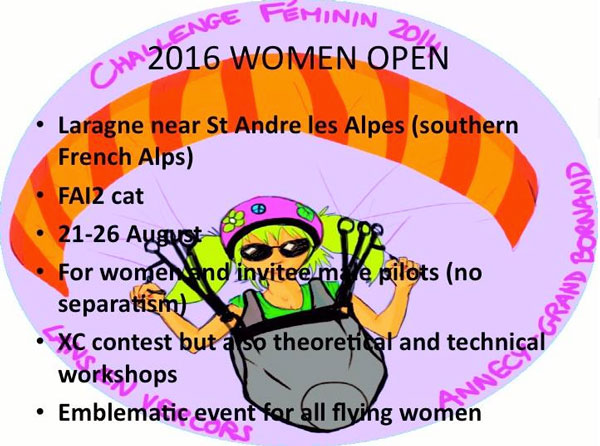 The French Paragliding Women Open 2016 is a FAI2 competition organised by the Female Commission of the Free Flying leagues in the Northern and Southern Alps, supported by the Female Commission at FFVL (French Flying Federation).
The competition is taking place between August 22nd – 26th 2016 (with Saturday 27th as a reserve day) . Registration and uploads will be on Sunday 21st August (4 to 8 pm) as well as a training task on the same day.  The event is aimed at promoting paragliding amongst the female paragliding community and offers an opportunity for women pilots from all over the world to meet up and exchange experiences. This competition welcomes in priority female pilots and will have a total of 60 places.  Participants will need to be IPPI5 qualified and hold a valid FAI2 licence and have third-party insurance.
Although the competition is all-female, up to 20 male pilots are also welcome as long as they registered alongside a female participant.
During the comp, there will be organised workshops will be organised on some of the evenings along with debates and brainstorming on the future of female free flying, as well as organised dinners throughout the week.
The entry fee of 150€ can be paid by credit card on the FFVL website
Programme:
Aug 21st: training task : meeting at 9am at headquarters at the Campsite and registration from 4 to 9 pm
Aug 22nd: late registration at 8 am, briefing and first task.
Aug 23-26th: Subsequent breifings at 9am and tasks.
Aug 27th: reserve day if less than two tasks flown during the week.Party and prizegiving ceremony.
We wish you to come numerous and full of beans for this amazing event!
Any further questions to be sent by email to:  bfjourdain@wanadoo.fr
Telephone : 0675124736