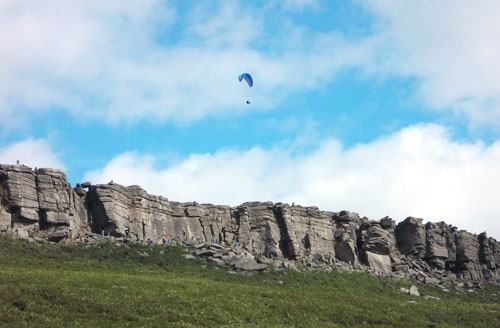 David Broxholme gets up close and personnal at Stanage Edge, UK
Stanage Edge is located just above Hathersage in the Derbyshire Peak District, a 3km long ridge lying in the central part of England.
Known for being one of the highest hills in the area it is a great place to go in nil-wind or light wind conditions.  Orientated to take south-westerly to west-south-westerly winds the ridge does however get blown out quickly, but on a good day starting at the south side WSW you can track north where the terrain opens up and swings round to the south-west.
It is quite common to get "wave" from the Stanage Edge site although this generally comes with a reasonable amount of turbulence too.  However, on this occasion, UK paragliding pilot David Broxholme, made the most of his new Christmas present (GoPro4) and some perfect soaring conditions to film some very close-up paragliding footage filmed on one of the UK's longest ridges.
Watch at 1:07:00m/s as David withdraws his right arm to avoid the oncoming rock!
David Broxholme is NIVIUK UK Team Pilot seen flying an Icepeak 8. Other pilots in the video are UK's young hopeful's Lawrie Noctor on a UP Trango XC3  and Theo Warden on his Nova Mentor.  Also Dave Allan kindly seen flying down at the end of the footage.