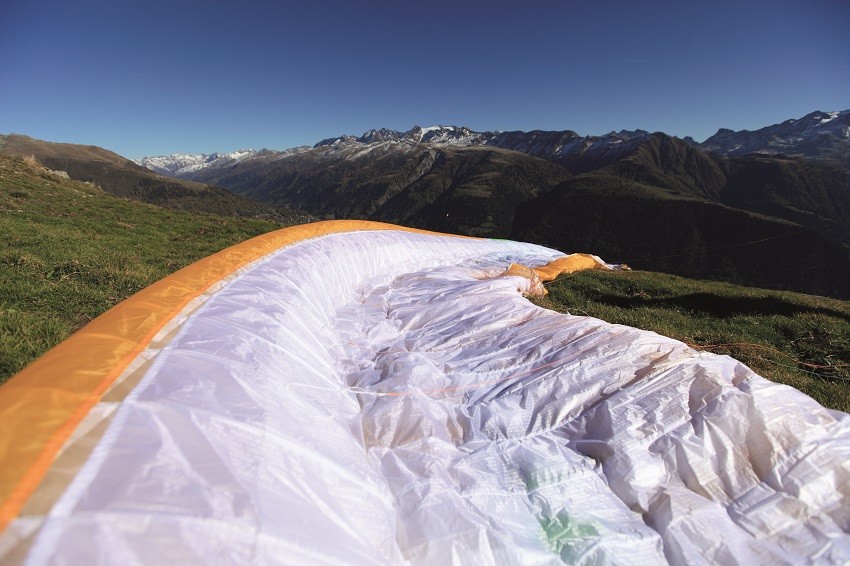 Titanium technology on the glider NIVIUK Icepeak 8
The team at NIVIUK are always looking to be one step ahead  and know that innovation is essential element in the development process in order to survive in the industry. After three years of research, Olivier Nef,  Niviuk's Chief R&D  designer, is proud to present "Titanium Technology".
The Nitinol, also known as Nickel Titanium, is a metal compound of nickel and titanium. The Nitinol is the symbiosis of two unique qualities: resilience and an flexible memory-form (the particularity of retaining its shape). NIVIUK had been working with this material since 2011 whilst redesigning the Drifter harness, and quickly noticed its potential. They purchased a few meters to carry out further test over a three year period and the results were very promising.
Olivier, can you tell me, what are the primary advantages of Nitinol?
"I would say that Nitinol's main advantage is that it is perfectly suited to act as a reinforcement inside the wing due to its small diameter and durable characteristics. The sail retains its ideal shape which is generated by tensioning the inner stitching, therefore erasing any unevenness to the surface. The result is a vast improvement to the overall surface but also to the durability of the fabric.  Its ability to keep the glider's profile smooth and tight whilst in flight, facilitates the unrestricted airflow over the wing's surface to generate better performance."
"Nitinol is not effected by high temperatures, and retains its shape in addition to being resilient and light in weight in comparison to other materials. Packing the glider will no longer be a problem either and it means that in the future, we will be able to design lighter gliders, which is always an advantage for the general performance of a wing."
Will we be finding Nitinol in the next NIVIUK gliders?
"We always incorporate our latest innovations to the competition gliders so that our best pilots can evaluate the performance and give us feedback.  For the timebeing, those comments are very positive!  From the very start it was clear that we would use Nitinol for the internal structure of the Icepeak 8, to design a superior glider with this new high performance material, and the Icepeak 8 was the ideal glider for this.
We have also used Nitinol in some of our prototype designs, but at this stage it is too early to say whether it will be incorporated in all Niviuk gliders. What is evident, is that the use of this material will bring a number of benefits to all pilots!"

14 janvier 2015

Created By:

Categories:

Tags: